It has been quite a journey...
1 May 2000
Just Chat launches on a free web space server. The page provides a list of links to chat sites that did not require registration.
23 May 2000
The site gets its own domain name - www.justchat.co.uk goes live!
18 June 2000
Just Chat begins beings offering its own shared chat room using an Internet Relay Chat (IRC) channel.
17 October 2000
Just Chat gets its first redesign. Check out the fancy new logo!

February 2001
Just Chat gets its very own, dedicated chat room. It was named the Reception room and it hosted the first of our live chat quizzes!
July 2001
Just Chat's third design goes live. Check out that colour scheme! We also introduced Chat Guides into our chat rooms at this time.

March 2003
Our fourth design goes live. Goodbye yellow, hello more blue!

November 2003
The Just Chat message boards are launched.
April 2004
Just Chat version five is released along with a new logo. We kept that relaxing shade of blue, though.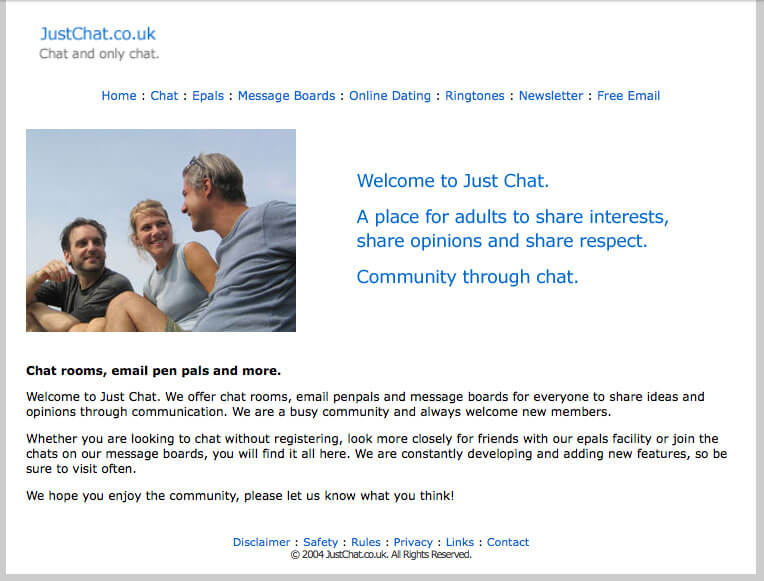 June 2005
Adeboje Mwambi from Yobe State joins the Just Chat message boards.
March 2006
After an April Fool's joke leaks stating that we'll be charging to use Just Chat, fastcars plans the first ever Just Chat sit in, forcing the JC administration to back down from implementing the charges they were never going to implement...
... or perhaps they were - in order to pay for the first Just Chat staff piss-up meeting that was held in Liverpool the same month. Highlights include yours truly winning a stunning mottled purple tie in a charity raffle and ForumHostPB chasing after a police car in an attempt to pull them over to get directions.
June 2006
Our sixth design launches. Just Chat goes from blue to orange, with the new design staying pretty much unchanged for over nine years: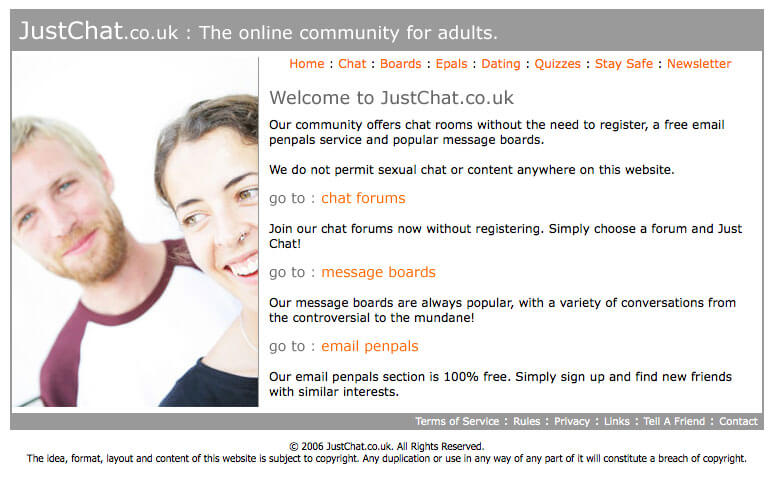 Oh, and in this month, Jenny.. spent a day microwaving fruit. Unfortunately the banana blows the door off the microwave, blows the fuses in her house and her neighbours end up calling the police.
September 2007
Just Chat changes chat forum software, prompting complaints about the chat forum being 'too bright' even though the colour scheme was exactly the same as before.
'The Great Lull'
I combine a few years of sailing around the world in my luxury yacht with a crackdown on bad behaviour on the message boards. The result is few cosmetic updates to Just Chat over a long period of time and a depature of many board users to a cupboard belong to someone called PATS.
December 2015
Now we're at our present design - version seven has proven to be the most radical change to Just Chat since the site was created over fifteen years earlier. Not only has the site been updated in a big way, our chat forum software has changed for the first time in over eight years (for forums one and two at least) and the message boards software changes for the first time ever.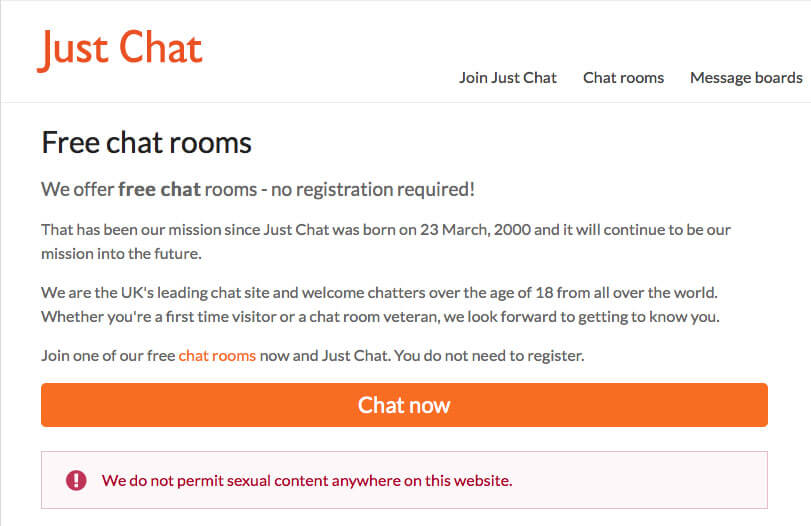 And there you have it. No doubt I've missed a number of landmarks along the way - so feel free to fill in any gaps via the comments section below.